Our efforts are driven by a sincere desire to help one another grow as professionals to make every instructor or aspiring instructor the best they can be. We do this by providing and partnering to provide innovative professional development opportunities for Instructors and Firefighters alike. 
We invite you to consider becoming a part of this by joining our ranks and attending our annual conference and other events. 
Be sure to check out our new initiatives for this year and let us know what you think.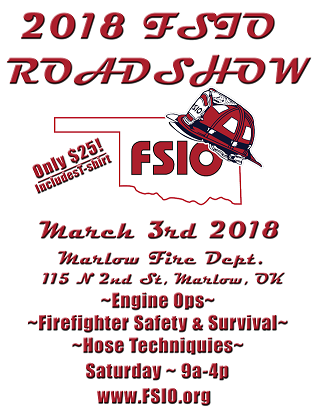 2018 FSIO Roadshow Events
We will be planning several roadshow events where we partner with the Metro Fools and other instructors to bring some practical hands on time with a new twist. Not only can your team get the value of the hands on training we will pull your training officers or anyone else wanting to learn what is necessary into the process of delivering these kinds of training events in your own departments. Adding tools, skills and experience to your toolbox as an instructor is what we are all about. Be sure to check out the events page often for dates as they are scheduled. 
Do you want to host one at your department ? Contact us today through the website, Facebook or reach out to your local area director or board member and let them know. We want to hear from you. 
The first one is already scheduled for March 3rd, 2018 in Marlow, OK. Click HERE to check it out and register ! 
Edmond Fire & Rescue Leadership Day presented by FSIO
This year we are sponsoring the Spring Leadership Day with Edmond Fire & Rescue. Check it out and come join us for an outstanding event with two very special presenters. 
Sign up soon, last year was a sell out event. 
Check out the presenters on the flyer below or click HERE to get more information and register today.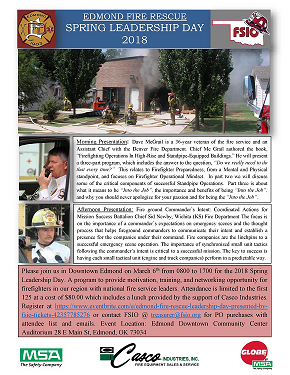 Want to be added to our mailing list ? CLICK HERE