40th Annual FSIO Conference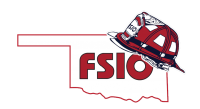 From September 30, 2021 8:00 am until October 02, 2021 5:00 pm
Click the "Join" button above to complete your conference registration and pay for your tickets
Conference Fee: $150.00
(Includes Banquet Ticket and 2022 Membership)
One Day Pass $75.00
(Includes 2022 Membership)
Extra Banquet Tickets $25.00
Thursday September 30th - Speakers Jim Annas, Colby Cagle, and Jay Dawes General Membership Meeting,  Instructor of the Year Nominee Voting,  Meet and Greet Social at host hotel
Friday October 1st - Speaker David Mellen with lecture and hands on training, FSIO banquet and Instructor of the Year Winner Presentation
Bunker Gear and SCBA required for Friday Hands on Training
Saturday October 2nd-  Lecture Classes - EJ Sorrels - Teaching Across the Generations  -  Jonathan Strahorn -  Up in Smoke: Marijuana Grows and the Oklahoma Fire Service
OSU - FST - Proctor and Evaluator and T-t-T for Firefighter I 
The conference will be held at the Edmond Fire Department Training Center at 5300 E Covell, Edmond, OK 73034.  
Host Hotel Information:  Hilton Inns and Suites at 2809 Northwest Expressway, OKC, OK 73112.  405-607-4000
Room Rate for Conference is $89 / night.  The group code is FSI.  If you call the hotel directly ask for Fire Service Instructors group
Link for booking is:
We are actively seeking sponsors and presenters so if you have something you would like to 
contribute
 to the conference, please join us at any of our monthly meetings or contact us through the website or Facebook.
You are here:  

40th Annual FSIO Conference